The Pembroke Tree Lighting took place on December 1st 2019 from 3:00 – 6:00 pm!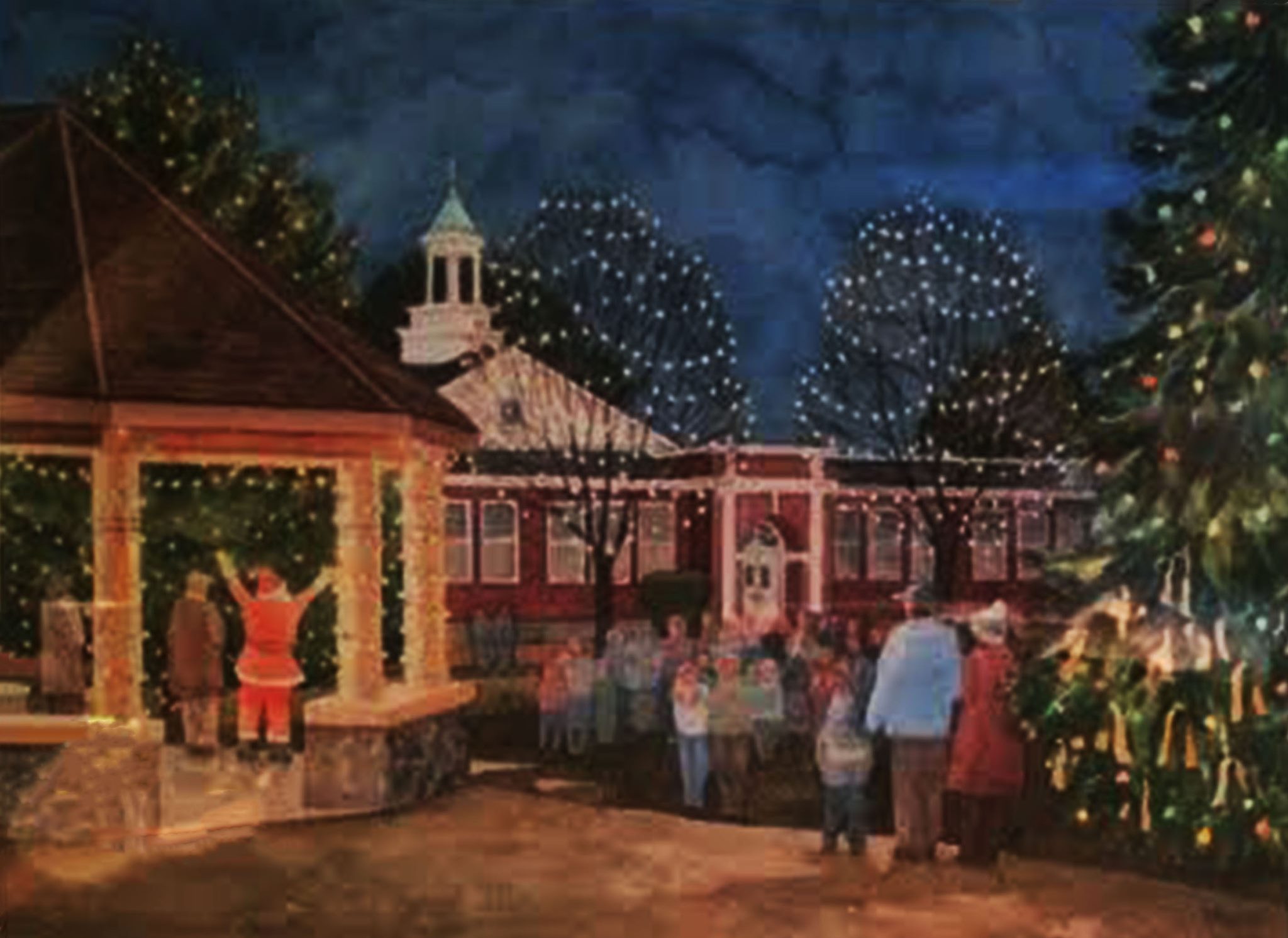 The Pembroke Tree Lighting Committee is a group of Pembroke residents who put on the Annual Pembroke Tree Lighting. Our goal is to have a fun memorable event for Pembroke. We hope those who attend have a wonderful time.

FREE activities such as:
* Crafts – donated by Pembroke Girl Scouts
* Balloon hats donated by Lorri Inglis, AlleyOoop Party Services
* Dog tricks – 4H
* Hot chocolate donated by Pilgrim Skate Park
* Cookie Decorating Table donated by Protectowire
* Face painting donated by Carol Cottie Green
* Music by DJ Lorri Inglis with AlleyOoop Party Services
* Marshmallows roasting over fire pits donated by the Halifax/Pembroke Lions
* Water station donated by Bridgewater Savings Bank
* Holiday characters by Turn the Page Entertainment

* Holiday Votive table – Mattakeeseett Garden Club
* Popcorn donated Patriot Cinemas
* Games

* Moonbounce by Real Estate Rocks
* Hayrides past the inflatable display
* Pembroke High School Music Department – along with the high school students- providing amazing Christmas music

* Concession Tent by the First Church
* The Pembroke Historical Society – opening their building and providing cookies and cider
* Story Time – Pembroke Library, Children's Librarian – Melissa McCleary
* Live Nativity by Ronda Polleys
* Video Game Trailer by Mass Army National Guard
SCHEDULE OF EVENTS

Time

Location

Peace Candle Opening Ceremony

3:00

Town Green Bandstand

Pembroke Military Support Group

3:15

Town Green Bandstand

Winter Wonderland Cabaret by Theatre Plus

3:20

Rec Center

Live Nativity

3:30

Town Green

Etoile Dance & Yogo Studio

Several times

Rec Center

Live Nativity

4:00

Town Green

Pembroke Librarian Story Time

4:15

Pembroke Historical Building

Santa flies in & Lights Trees

5:00 pm

Town Green Bandstand

Pembroke High School
Choir & Band Ensemble

5:15 – 6:00 pm

Town Green Bandstand
SNOWMEN ON THE GREEN CONTEST
Making a return this year will be the very popular "Snowman Contest"! Each "blank" snowman can be yours for a mere $25.00 and can be picked up at the Real Estate Rocks Office at 290 Center Street in Pembroke. Your task, should you choose to do so, is to decorate the Snowman as you like. Feature your business or club or your favorite sports team. The possibilities are unlimited! The decorated Snowmen must be brought to the Real Estate Rocks Office at 290 Center Street in Pembroke no later than November 22nd. The Snowmen will be installed on the Town Green on November 25th and will be judged by a random selection of those attending the Tree Lighting on December 1st. We hope to see you at the Tree Lighting, but we also hope to see you before the event when you come in to get your blank Snowman. Get them while you can. There is a limited number available!

Click here for Golden Ticket info

Your 2019 Tree Lighting Committee
Your Pembroke Tree Lighting Committee is a group of Pembroke citizens whose mission is to put on the best holiday event. There's always room for YOU!
Many folks on the Tree Lighting committee are also working on Pembroke Celebrates with Fireworks. We plan on having it Saturday, Sept 19, 2020.
We welcome suggestions and feedback for next year's Pembroke Tree Lighting event. Please email me at Kathleen@KKeeganRealty.com.
Kathleen Keegan
Pembroke Tree Lighting, Chairperson
781-775-4670
Kathleen@KKeeganRealty.com
This website is hosted by KKeegan Realty, your Pembroke Realtor. What makes KKeegan Realty unique?SELLERS Click Here