The Pembroke Tree Lighting is made up of a fun dedicated group of citizens. We love Pembroke and want to put on a fun memorable event for folks. Welcome to the Pembroke Tree Lighting!
DATE: Sunday, December 5, 2021 | 3:00 – 6:00 PM
LOCATION: Pembroke Town Green, 128 Center St, Pembroke, MA
COST: FREE but donations greatly appreciated.
Our Mission: Put on an annual community event that builds terrific town spirit.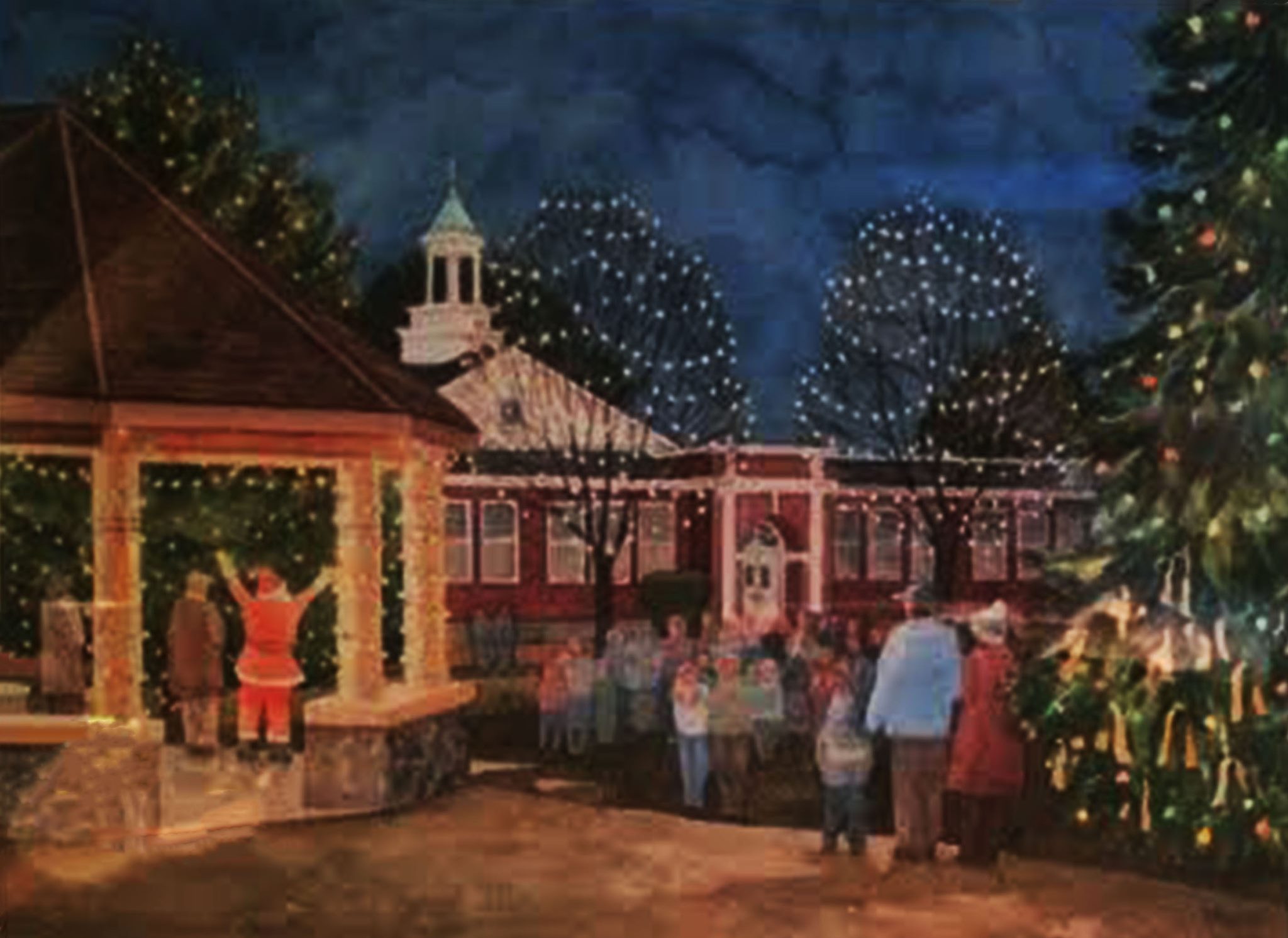 Welcome to Pembroke's annual Tree Lighting on the Green! This festive Pembroke tradition kicks off the Holiday Season by lighting up the trees in our beautiful Town Center.
This year's tree lighting is especially meaningful as we celebrate for the last time in front of the Rec Center building before making way for the new Community Center!
Check out the full schedule of festivities , performances, and activities below. All of our activities today are FREE, however donations are greatly appreciated and all proceeds go towards putting on this annual event. Donation jars are located at most activity stations. Scan here to donate!
FREE activities such as:

* Games

* Moonbounce
* Marshmallow roasting over fire pits
* Write a letter to Santa
* Balloon Animals
* Story Time
* Visit with the Snow Queen and her court
* Holiday tattoo station
* Cookie decorating
* Ornament decorating
* The Pembroke Historical Society – opening their building and providing some treats
* Live Nativity
* Raffle items and 50/50 raffle table
SCHEDULE OF EVENTS

Time

Location

Boy Scouts Peace Candle Opening Ceremony

3:00 pm

Town Green Bandstand

CNK singing

3:10 pm

Town Green Bandstand

Pembroke Military Support Group placing yellow ribbons on the Veteran's Tree

3:15 pm

Town Green Bandstand

Live Nativity

3:30 pm, 4:15 pm

Town Green

A Round of A Paws 4-H dog club

3:50 pm

Town Green

Santa flies in & Lights Trees **

5:00 pm

Town Green Bandstand
Pembroke High School Choir & Band Ensemble

5:15 – 6:00 pm

Town Green Bandstand

Theater Plus! Jingle Bell Jukebox

3:10-3:40 pm

Rec Center Stage

Pembroke School of Performing Arts

3:45-4:15 pm

Rec Center Stage

Etoile Dance & Yoga Studio

4:20-4:50 pm

Rec Center Stage

Pembroke Librarian Story Time

4:20-4:45 pm

Room off Rec Center

No performances from 4:50-5:10 due to Santa's arrival

Pembroke School of Performing Arts

5:10-5:30 pm

Rec Center floor

Etoile Dance & Yoga Studio

5:35-5:55 pm

Rec Center floor
** At 5:00, Santa and his friends will fly in, courtesy of Pembroke Fire, and light the trees lining the Green. Once our Town Green is shining bright, be sure to head into the Rec Center to meet with the Big Man himself so you can tell him whether you've been naughty or nice this year! (Due to the ongoing pandemic, Santa will be social distancing. Kids can visit from 6 ft away and will receive a candy cane.)
In Appreciation THANK YOU to these town departments, local businesses, organizations and residents for making this event possible:
* Pembroke Department of Public Works
* Pembroke Recreation Department
* Pembroke Police and Fire Departments
* The Pembroke Military Support Group
* Gwynne Chapman & Pembroke High School Music Department
* Pembroke Assembly of God for providing DJs and the use of their sound systems
* Community Nursery & Kindergarten for cookie decorating supplies
* Sampson Lumber for a donation of lumber for the snowman decorating contest
* Pembroke Historical Society
* Pembroke Dunkin Donust for providing hot chocolate
* The Pembroke Dull Mens Club for their generous donation
* Department of Children and Families for providing information on Foster Care
* Ronda Polleys & Beulah's Bakery for organizing the live Nativity
* Tracy Marino Photography
* Glen Thompson for donating the firewood
* A Slice Above Pizzeria for providing pizza for our volunteers
Thank you especially to all our wonderful volunteers including Pembroke High School National Honor Society and Key Club students All the elementary school students' generous donations to the Pembroke Food Pantry through the Golden Ticket program
Snowmen ON THE GREEN CONTEST

Winners of the Golden Ticket will be on stage with Santa. Thank you to all the kids who donated to the Firehouse Pantry. Good luck next year.

Your 2021 Tree Lighting Committee

The Tree Lighting on the Green committee is a group of festive Pembroke residents whose mission is to put on the best holiday event kicking off the Holiday Season!
2021 Tree Lighting on the Green Committee
Kathleen Keegan, Chair
Nancy Morin, Vice Chair
Lorrie Garvey, Secretary
Donna Woods, Treasurer Liz Bailey
Lauren Canada
Becky Coletta
Betty Corti
Ken Corti
Breanne Dennis
Debbi Farrell
Jackie Fitzpatrick
Jeanine Hall
Matt Kenerson
Chris Long
Tracy Marino
John Mattinson
Helen Murphy
Alison Parks
David Poole
Kairyn Rainer
Gail Sim
Karyn Tracy
Joanne Vogelsong
And there's always room for YOU!
This special town-wide event is held the first Sunday of every December. Next year's Tree Lighting is Sunday, December 4, 2022!
Many folks on the Tree Lighting committee are also working on Pembroke Celebrates with Fireworks. We plan on having it Saturday, Sept 17, 2022.
We welcome suggestions and feedback for next year's Pembroke Tree Lighting event. Please feel free to reach out to me.
Kathleen Keegan, Pembroke Tree Lighting, Chairperson
Cell/Text: 781-775-4670, Kathleen@KKeeganRealty.com
This website is hosted by KKeegan Realty, your Pembroke Realtor.